dysnomia available worldwide on 2x lp • cd • download
order on bandcamp • erased tapes
"something totally unprecedented" • pitchfork
"brain-bending, seemingly impossible" • rolling stone
"favorite thing in years" • radiolab
"moving and addictive...a feat of innovation" • interview magazine
"stellar...at a loss for words" • spin
"an hour flew by in what seemed like minutes" • the new yorker
"perverse in a good way" • the new york times
"a mysterious, vital sound with a pull all its own" • the los angeles times
dom in hibernation
after 4 years of touring dysnomia, the band is currently in a temporary hiatus due to their involvement in outside projects. however, we could still be playing in your area, so please sign up for our newsletter. thank you to all the fans for supporting us so warmly during all these years of touring
michelle dorrance • praedicere
american ballet theatre spring gala • metropolitan opera house
may 21. 2018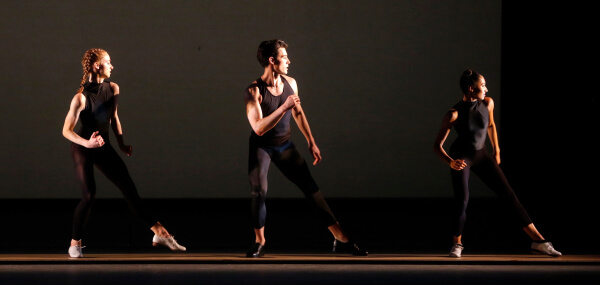 this World Premiere pièce d'occasion is the first in a trio of works by tap dancer, choreographer and macArthur genius fellow michelle dorrance, co-commissioned with Vail Dance Festival, and music by Dawn of Midi. This is Dorrance's first work for American Ballet Theatre

"an impressive feat of creativity and athleticism that brought enraptured cheers" - forbes
under the influence
ancient rhythms for a modern climate
aug 2016
mark jacobson interviewed us for this bi-annual magazine based in london, uk
"there is individual technical virtuosity where one achieves complete command of an instrument. this is not dawn of midi's genius. theirs is derived and mined from an obsessive, meticulous commitment to ensemble through compulsive practice and continuous refinement. theirs honours the past: a reimagining of ancient west and north african rhythms for a modern, western, all-acoustic configuration of piano-bass-drums that, at moments, sounds like the frenetic electronic clicks, snaps, & bass drops of an aphex twin cut."
purhcase this issue here
dj mix • sounds of sonar
mix by amino belyamani
jun 2016
a collection of groovy music beyond any genre and classification
dj mix • clash music
an exploration of african influences...
mix by amino belyamani
mar 2015
" 'dysnomia', in a certain way, is about deception. the idea is to create music that would feel right, in a certain pulse, and make people dance, even if felt in a completely different and wrong way. just like in many folk traditions of the world, only the members of that specific community understand and feel the music correctly."
"as an outsider and discoverer of this new music, you would enjoy it at first, even without really understanding it, but the more time spent listening to it, the closer you'll get to feeling the music the right way. this mix, containing diverse styles of moroccan folk and ewe music from ghana and benin, is a journey illustrating this very concept of deception. enjoy!"
read more here
dom & bright wave • kanye demands a son
ecstatic music festival • kaufman music center
feb 2014
a collaboration between dom and bright wave
dom also performed dysnomia that evening

listen to full concert here
high maintenance • qasim
dec 2013
want to know about the uber man?
this episode from the very exciting and unique hbo series, high maintenance, features a track from dawn of midi's dysnomia and a special guest appearance by our drummer...qasim

watch full episode on hbo
interview magazine
dale eisinger interviews us for interview magazine
sep 2013
dale eisinger: amino, where are you?
amino belyamani: i'm in rabat actually, in the outskirts of rabat right now. i'm looking out over at empty fields of farmland.
aakaash israni: yes!
eisinger: dawn of midi, explain to us who you are and what you are.
israni: we're a band.

read the full interview here
kashmir
concert film
film by prashant bhargava, rest in peace
nov 2011
kashmir is a concert piece with film exploring the role of memory in conflict. the performance places its investigation in the context of the territorial conflict over the region kashmir. visually, the film, shot on location in srinagar kashmir, provides a visual counterpoint to the rhythmic and harmonic texture of an original, through-composed score in four movements by dawn of midi